We are the commercial cleaning experts.
Welcome to ServiceMaster of Vancouver - Janitorial Management Services
Proudly serving the Vancouver region since 1991, ServiceMaster of Vancouver – Janitorial Management Services has been providing exceptional commercial cleaning services to professional offices, retail and other commercial facilities for over a quarter of a century.
We provide janitorial services for such a wide ranges of commercial facilities, it is difficult to name them all, but here are the core facilities that we service:
Casinos
Warehouses
Office buildings
Business parks
Sports venues
Healthcare facilities
Educational properties
Entertainment facilities
Gaming companies
Law offices
We also provide a number of specialized services such as floor care, post construction cleaning, power washing, window washing or any other office cleaning requirement to help you provide a clean and healthy environment to showcase your facility to both clients and employees.
Our depth and breadth of experience has made us a trusted source of knowledge and expertise for our customers. We are known as the team that can get things done!
OUR COMMITMENT TO THE ENVIRONMENT IS UNWAVERING
Long before sustainable cleaning became a buzzword in the industry, ServiceMaster of Vancouver – Janitorial Management Services was already focused on reducing our environmental footprint. Through the use of green cleaning products, equipment and advanced environmentally friendly cleaning techniques we have been able to provide LEED® points to our customers and have also been recognized by Green Seal™, which has made us the only company in British Columbia to have the honour of being awarded their GS-42 certification for Commercial and Institutional Cleaning Services.
PREVENTATIVE CLEANING AND DISINFECTION SERVICES
For years, ServiceMaster of Vancouver - Janitorial Management Services have been the experts in creating clean, safe and healthy workplace environments. Our experience and training afford us the ability to promote safe practices for infection prevention within all businesses.
In these unprecedented times, we are ready to respond with effective and customizable solutions. ServiceMaster of Vancouver - Janitorial Management Services provides a full range of cleaning and disinfection services that will help to keep your workplace healthy and productive.
GET A FREE ASSESSMENT
COVID-19 FAQs
How can ServiceMaster Clean help?
If you need help maintaining routine cleanliness conditions in your workplace, you may want to call in a professional like ServiceMaster Clean to sanitize and disinfect.
Our expert technicians are trained to clean first to break organic loads and remove gross soiling. Then they sanitize or disinfect as appropriate.
When we do this, we follow the guidelines set in place by the health officials such as WHO and Health Canada. There are many methods of disinfection and you can be assured that your technician is trained to do each in the recommended manner. Our technicians also use appropriate PPE (Personal Protective Equipment) with your security and privacy in consideration.
MORE COVID-19 FAQS
News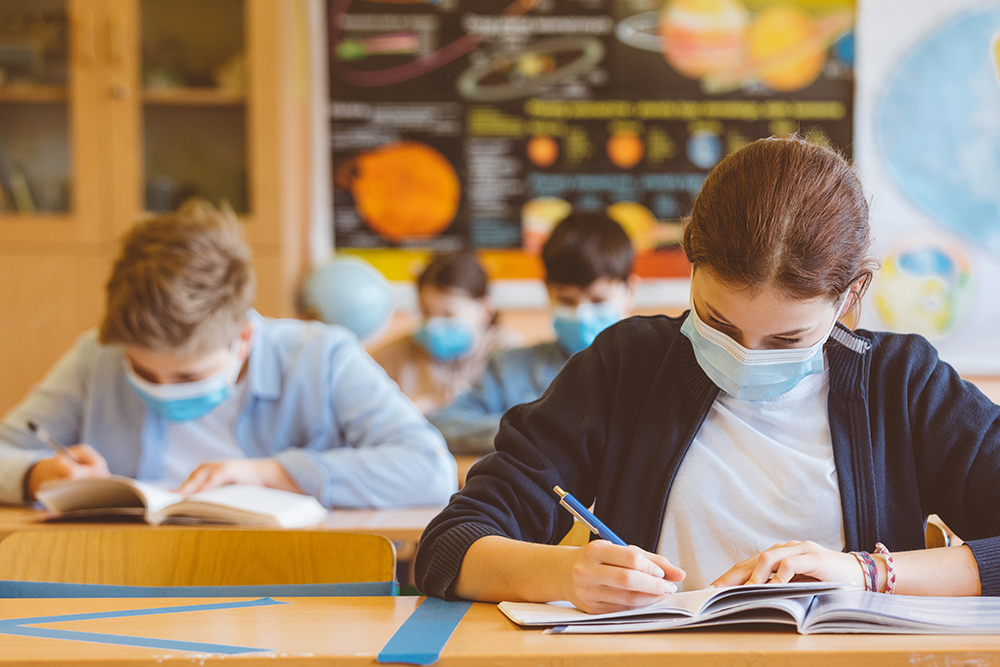 The Facts On Disinfecting Schools
School administrators are facing perhaps their most difficult fall season ever. Getting back to school has never been more uncertain or complicated. Ensuring the safety of students and faculty during the COVID-19 pandemic has raised some challenging questions, many of them about cleanliness and disinfection. Infection control in schools is always a concern because of influenza and bacteria such as MRSA and C. diff, but COVID-19 presents new questions. Principals and school boards are seeking information and they often turn to commercial cleaning professionals for the answers.
ServiceMaster of Vancouver - Janitorial Management Services
5589 Byrne Rd.
Unit 111
Burnaby, BC, V5J 3J1
Tel: 604-888-1588
Email: service@smclean.ca
---
Introducing the ServiceMaster Clean Protect-3 AdvanceTM system!
The Protect-3 Advance system is ServiceMaster Clean's answer to help our customers protect the health and safety of their facilities, not only today but into all the coming days. This exclusive, proprietary program integrates state-of-the-art equipment to not only deliver the best cleaning and disinfection solutions to our customers but also provides scientific validation that we have done just as we promised – delivered a clean, healthy and safe commercial facility!
About Us
YOUR JANITORIAL SERVICES EXPERTS IN THE LOWER MAINLAND With over 27 years of janitorial cleaning experience serving the Vancouver region (including Surrey, Maple Ridge, Langley, Port Moody, Coquitlam, New Westminster, White Rock, Delta, Burnaby, Burnaby North, Vancouver, Richmond, North Vanco
Commercial cleaning services to suit every budget. Our plans start as low as $250 per month - whether you need daily janitorial office cleaning, commercial carpet cleaning or specialty commercial cleaning. Depending on your specific requirements, we will work with you to develop a plan that suits your needs, and your budget.
Guaranteed Service
No other vendor offers the quality of service and degree of commitment as consistently or as affordably as ServiceMaster Clean. We are so confident in our performance, we guarantee it!
Our expertise, dedication and value-added services make us the best commercial cleaning choice for your business.
Get A Free Assessment